In our previous post, we discussed how to keep your home safe during summer vacation. But have you given thought to how you will keep your home safe during the summer storms? Spring and summer bring the highest rate of storms, which can cause some serious property damage. Rest easy knowing that your home is protected and ready for any storms that may come your way, by following these suggested preventative measures!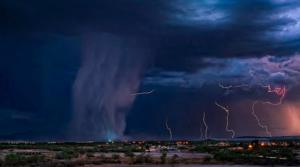 Know where your shelter is – find the safest place in your home to hide out, during the event that there is a storm.
Create an emergency kit with necessities – and store it in the safe place where your family will hide out during a storm. A few of the items you should keep in the kit are non-perishable foods, a flashlight, water and extra clothes.
Keep routine maintenance on your roof and foundation.
Remove any trees or branches within close range of your home. These are major causes for property damage from high mile winds during the storms.
Avoid all metal – it's also important to stay away from your phone, computer, and any electronics, if possible.
Close and secure all doors and windows.
Now that most of your home is protected, let's make sure your air conditioning unit is also protected from flooding! Your AC unit may start to accumulate water, which is why there's a device created to store the extra water, called a drain pan. There's a possibility that your drain pan could become clogged, or even the drain line. Central Carolina Air Conditioning, Plumbing & Electrical can install a micro "float" switch that will automatically shut your unit off if the drain pain accumulates water past a certain point. You can have peace of mind that not only your home is protected, but also your unit from any possible water damage.
Give us a call today Call to schedule your appointment today at 800-461-3010.