Summer is the season that yields the quickest growth for plants and flowers, which is probably not surprising considering the amount of sun and warmth they receive. The amount of water a flower or plant receives plays a critical role in its overall growth. Although some flowers may not get enough water, there is equally a concern that some flowers receive too much water. Look for signs as you tend to your own garden and its needs. If your flowers have brown petals that are starting to curl, they most likely need more water. If the petals are starting to droop, however, this sign shows that they are receiving too much water.  Consider an irrigation system in your yard and garden and allow us to help!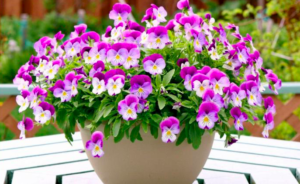 If you're looking for a beautiful array of color in your garden, there are many flowers that you can plant during summer to provide that pop of color! We've listed just a few of our favorites:
Marigolds – it's hard not to feel instantly better when looking at these vibrant warm orange and yellow flowers. Be sure to plant them in a place that receives lots of sunshine.
Lantanas – If you're looking for a flower than comes in more colors than just orange and yellow, you may want to consider Lantanas. Their low-maintenance nature makes them appealing to many, and their array of colors comes in purple, pink, red, orange and yellow.
Verbenas – Need a flower that will spread and provide a sweeping effect? The Verbena is perfect for planting on retaining walls or in flower boxes or pots.
Gloriosa Daisy – Let's not forget the Gloriosa Daisy, also known as the Black-Eyed Susan. They can reach up to 3 ½ feet tall and are ideal for planting at the back of garden beds so they don't block the view of their smaller counterpart plants. With their orange petals and black center, the Black-Eyed Susans require full sun to reach their potential growth.
While you're making your yard beautiful, don't forget about the inside of your home as well.  The intense amount of heat during summer months is less than ideal for your air conditioner, if it's not maintained for optimum efficiency. Central Carolina Air Conditioning, Plumbing & Electrical can install a Power Ventilator in your home to save you money and provide cooling relief from the heat!  There may be heat trapped in your attic, forcing your air conditioning unit to work double time. The Power Ventilator will replace this hot air with the cooler air outside, saving you money and allowing your unit to run more efficiently!
Give us a call today Call to schedule your appointment today at 800-461-3010.