Home Lighting
Our homes are where we often spend majority of our time. The lighting we use should be fulfilling the purpose, f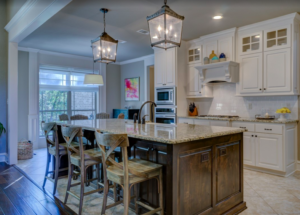 unction or feel that want in each room. Lighting may not be something that you've given much thought to, but it powerfully impacts everything you do, whether you realize it or not. Lighting can make you feel awake and alert, or it can put you in a relaxed and calm mood. We'll cover the different functions of lighting, and how they correspond with the purpose of each room in your home.
General/Ambient Lighting is typically considered as the room's natural light and works to light up the whole room. Various forms of lighting can be categorized as ambient lighting, such as a pendant light, track lighting or a chandelier.
AccentLighting Is there something in a specific room that you'd like to draw attention to and highlight? Maybe it's a special painting or a bookshelf. Accent lighting will highlight the specific piece or part of the room that you want to focus on.
Task Lighting – as the name suggests, task lighting serves a purpose to help you stay focused an accomplish something, whether it's reading a book or working on a project.Instead of creating a warm ambiance, it does quite the opposite by providing brighter light to ensure you stay awake and focused.
As you keep in mind the mood and purpose for each room in your home, you'll be able to determine which kind of light will optimize the purpose for each room. Below is a general guideline for the lighting that is best to include in each room:
Kitchen: Combine the use of task lighting and general lighting. The kitchen is often the heart of the home, so you'll want to provide general lighting that will brighten the space where people often gather. Inlcude some task lighting in the form of track lighting under the countertops so that you'll have extra visibility to any cooking you need to do on the counters.
Living Room: Another common gathering area that will require general lighting in the form of a ceiling light. Add a couple lamps in the corners for those times when you want to create a warmer ambiance.
Bathroom: Select lighting that will accurately show skin tone color – this is the room where you get ready, so the lighting should be accurate for getting ready and applying makeup.
Bedroom: This is the room in your home that should avoid task lighting. The room where you sleep should be filled with warm lighting that will put you in a relaxed and ready state for bed.
While you're looking for energy efficiency in lighting, why stop there? Let us check your electrical outlets and components to make sure your home is safe.  Also, make sure your whole home is efficient by scheduling a cooling maintenance! Among the many services we offer, we can install a Power Attic Ventilator to reduce air conditioning costs by forcing very hot air trapped in the attic and replace it with cooler air outside. Your unit will run less during the hot summer days, which will result in energy savings for you! Call Central Carolina Air Conditioning, Plumbing & Electrical to schedule your appointment today at 800-461-3010.