People are often looking for more ways to save money.  Even a few extra dollars of savings a month can accumulate and make a difference. Have you looked into all the areas you could be saving more? Maybe you've committed to tuning up your AC unit on a regular basis. This is an important aspect of long term energy savings. But have you considered the thermostat you're using?
There are a few primary benefits to using a programmable thermostat:
Saves time – Instead of constantly adjusting the thermostat for the time of day and the different seasons, consider a programmable thermostat that will automatically adjust based on how you preset it! It can become quite a hassle to constantly adjust the temperature during the day, before bed, right when you wake up or when the seasons change.  By setting the temperature up front, you save time and hassle.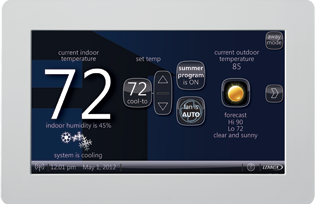 Saves money – With energy bills on the rise, a programmable thermostat is even more beneficial because of how much energy it will save, which translates into money saving. There's the potential to save up to 2% for every degree you lower or increase your setting. You can adjust the settings to turn off the AC when you are gone, then turn on when you get home, so you'll also be saving money here as well.
Adjusts to zoned heating and cooling areas – It's already beneficial to have zones of your home that you can heat and cool according to preferences and use of that space. It's even more beneficial for these zones to be preset, which allows every square foot of your home to be completely customized with temperature settings.
Maintains a consistent temperature – Instead of fluctuating between too hot or too cold, a programmable thermostat allows you to set and maintain the perfect temperature. It also prevents those spots in your home that can be hot or cold spots.
If you haven't had a chance start routine maintenance for your heating and cooling systems, don't worry – it's not too late! The most significant money savings comes from your air conditioning unit. If it is running inefficiently or breaks altogether, the cost to fix it will be significant. Central Carolina Air Conditioning, Plumbing & Electrical can come out and check your unit to ensure that it's running efficiently, and we can continue to provide routine maintenance. We can also install and set your programmable thermostat as well!
Give us a call today Call to schedule your appointment today at 800-461-3010.