Smart home technology is becoming more and more mainstream for tech-savvy homeowners. If you're not a gadget guru, you might wonder if a smart thermostat is worth the investment and learning curve. And, can a smart thermostat save you money?  Programmable thermostats have been around, but here are some things that might surprise you about smart thermostat technology.
What is a smart thermostat? 
Smart thermostats connect to your home WiFi – typically, they have a WiFi chip, but some communicate through a separate hub. (Eyes glazing over? Don't worry professionals set this up). You simply control your thermostat through an app on your phone. The newest technology allows the thermostat to not only set up schedules, but also read your daily patterns and adjust accordingly.  This can lead to improved efficiency and opportunities for savings.
You don't have to have a "smart home" to use a smart thermostat.
If you don't have a smart home system, you can still use a smart thermostat and phone app. If you have Google Home, Amazon Alexa, and Apple HomeKit, you can control your thermostat the same way you control other things like lights, appliances, and entertainment.
They report to you.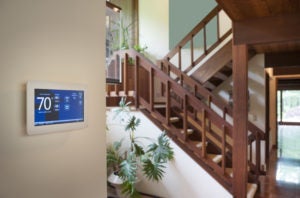 Some smart thermostats can translate temperature trends and usage data into energy efficiency reports. If you have electric HVAC and appliances, it might be hard to decipher how much of your electric bill is directly from heating and cooling. Getting a separate report from your smart thermostat shows you how your energy usage breaks down and allows you to make changes or improvements to maximize efficiency and save money.
They know your home.
Whether it be your HVAC unit itself, drafts from windows, insulation issues, or blocked vents, if your home is not maintaining temperature in an efficient way, your smart thermostat knows. It alerts you to changes in the amount of time it takes to get your home to a desired temperature. This gives you the opportunity to identify potential problems with your home or system.
Central Carolina Air Conditioning can help with your home efficiency needs.  Request an appointment online or call us at 1.800.461.3010.