There are so many options for lighting that it can seem like a challenging task when you're trying to make decisions for your home. Do you need lighting that is cool, neutral, warm, or changeable? It depends on how and where you're using them, what kind of look and feel you're trying to create and personal preference. First, consider the color temperature scale.
What is Color Temperature?
You'll find that most LED lighting products are offered in a variety of color temperatures – they vary hues of white. Correlated color temperature, or 'CCT' is a term you'll see used to describe how warm (yellow) or cool (blue) the color of light in an LED bulb or fixture appears. It works like the sun, and is easiest to explain that way.
As the day progresses, the sun changes color. Midday might be 6000K (Kelvin), or very bright bluish-white. Sunset may be 3000K with an amber light. Usually, Kelvin temperatures for residential lighting are between 2500K and 5000K.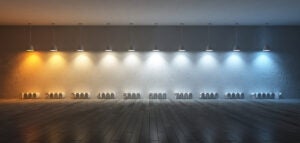 Here's another way to look at it:
"Warm" light = anything 3000K or lower.
"Cool" light = 4000K or above.
"Neutral" looks cool or warm depending on surrounding furnishings and other lighting close by.
Some task lighting like in a basement workshop or home office can often be useful at 4000K and above.
And of course, the choice is ultimately up to you!
Kelvin temperature can also help you decide which fixture is right in a room:
Warm light, ambient lighting = 2200-2700K.
Soft white light = 3000-3500K.
Bright white light (for kitchens, offices, workspaces and vanities) = 4500K.
Other things to consider
Look at the colors of your ceiling, walls and floor. If your home has mostly cool colors like blacks, greys, blues, greens, and crisp whites the best choice is a cool LED color temperature such as 3000K or 3500K.
If your home has mostly natural materials like hardwood floors, wood cabinets and furniture, and colors like browns, reds, and oranges then warmer white LEDs is the best choice.
Temperature Recommendations by Space
Typically, lighting works best in certain rooms for which they are used.
Create an inviting living room to relax in and for entertaining. Using a dimmer sets the right atmosphere for TV watching and movie nights. Suggested color temperature: 2700-3000K
Lighting that's a balance between being inviting, and bright enough to see what you're eating is what you want in the dining room. Installing a dimmer helps adjust to the perfect mood. Suggested color temperature: 2700K – 3000K
Bedrooms are the most intimate space in your home. Keeping lights low and warm allows you to relax and rest. Suggested color temperature: 2700-3000K
Bathrooms are cooler and brighter so they are functional for routines like applying makeup and shaving. A more soothing environment can be achieved with a dimmer. Suggested color temperature: 3000-4000K
Bright light in the kitchen is ideal for prepping food and reading recipes. But kitchens are so versatile, so the color temperature can vary. Decide what's best based on your decor and any other lighting being used nearby. A fail-proof 'neutral' 3000K white will look great no matter what. Suggested color temperature: 2700-4000K
You'll need bright, task-oriented lighting in  the office or garage. Suggested color temperature: 3000-5000K
Ideally, our lighting would change throughout the day, just like the sun. We can try to emulate this process with LED "tunable" fixtures and using dimmers whenever possible. Dimming can transform a space and give you more functionality. It will also save energy and extend the life of your light bulbs.
If you need professional assistance while on your color temperature journey, call Central Carolina Air Conditioning, Plumbing, & Electrical at 800.461.3010.