Colder days are here! Taking steps now to conserve and redirect heat will help you save on your energy bill  throughout the winter months. It can also prevent costly repairs to overworked systems.
Most of the tips below are free, and any costs are minimal compared to the amount of money you can save.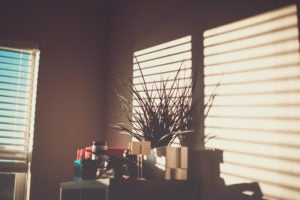 Bring in the warmth of sunlight
Open curtains on your south-facing windows and doors during the day to allow the sun's light heat your home.
At night, close them to cut the chill from cold windows.
Cover drafty windows
Use window treatments such as a heavy-duty, clear plastic sheet on a frame or tape clear plastic film to the inside of your window frames. Make sure the plastic is sealed tightly to the frame.
Install tight-fitting, insulating drapes or shades on drafty windows after weatherizing, to conserve heat and save energy.
Adjust the temperature
Set your thermostat as low as comfortable when you are home and awake.
When you are away from the house or asleep, turn your thermostat back 10 degrees to 15 degrees for eight hours to save around 10 percent a year on your heating and cooling bills.
Keep a moderate setting on your heat pump or use a programmable thermostat specially designed for use with heat pumps.
Locate and seal leaks
Seal air leaks. Some places to check are around utility cut-throughs for pipes, gaps around chimneys and recessed lights in insulated ceilings, and unfinished spaces behind cupboards and closets.
Use caulking or weatherstripping to seal air leaks around doors and windows.
Insulate the attic door
Even if your attic is insulated, don't forget to check your attic door.
Add insulation to the inside of the door to prevent heated air from rising into the attic.
Maintain your heating systems
Schedule maintenance for your heating system.
Replace your furnaces and heat pump filters once a month or as needed.
Clean the flue vent regularly on your wood- and pellet-burning heaters. Clean the inside of the appliance with a wire brush to ensure that your home is heated efficiently.
Reduce heat loss from the fireplace
Keep your fireplace damper closed when there is no fire is burning. Keeping it open allows warm air to go right up the chimney.
When you use the fireplace, reduce heat loss by opening dampers in the bottom of the firebox or open the nearest window about an inch. Close doors to the room. Lower the thermostat setting to between 50 degrees and 55 degrees.
If you never use your fireplace, plug and seal the chimney flue.
Add caulking around the fireplace hearth.
Lower your water heating costs
Turn down the water heater temperature to the warm setting (12o degrees).
Use ceiling fans correctly
Most ceiling fans have a switch so you can set the blades to rotate in reverse during the winter. This pushes the warm air near the ceiling down toward the floor to keep you warmer.
Locate this switch on the body of the fan and set the blades to turn counter-clockwise. In summer, reverse the direction so the blades rotate in a clockwise direction.
Install door sweeps
Prevent cold air from blowing in by installing a door sweep at the bottom of exterior doors. Some utility companies offer them free to customers, so call to inquire before you buy one.
Seal electric outlets
Did you know electric outlets and switches can be sources of air leaks? Insulate them.
Turn off the power at the circuit breaker box. Insulate with pre-made foam gaskets. Measure the outlet to be sure you get the correct size.
Also, insert child-safety plugs in unused wall outlets to plug potential leaks.
Central Carolina Air Conditioning can help with your home efficiency and maintenance needs.  Request an appointment online or call us at 1.800.461.3010.