In a previous post, we explained how to prep your kitchen walls so that they are ready to be tiled for an instant upgrade. Now that your walls are prepped, it's time for the measuring. You'll want to start at the focal point of the kitchen which is most often above the oven and under the hood vent. Since you'll be buying and cutting the tile sheets yourself, you will want the least amount of cutting possible.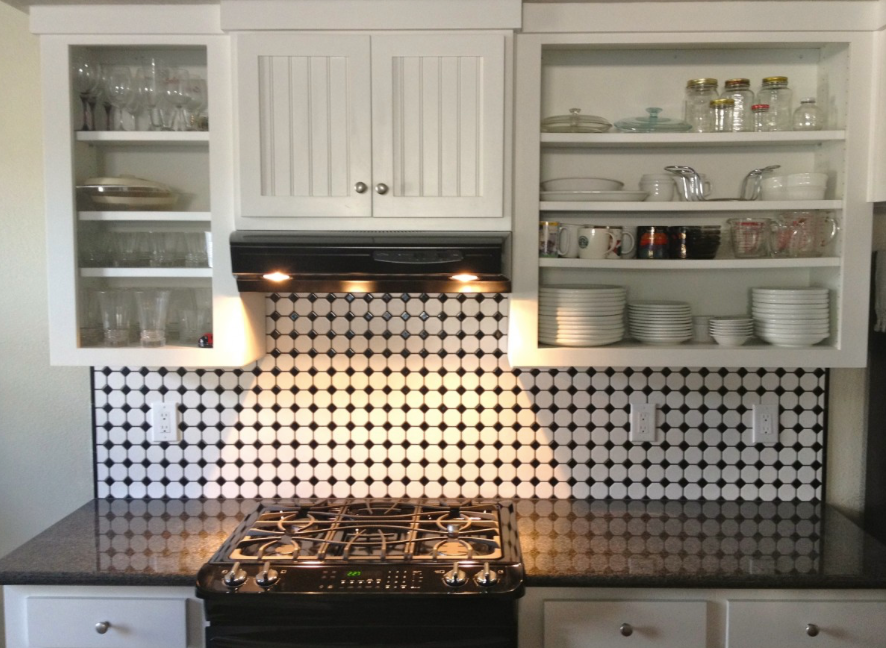 Starting above your stove, measure from the top down where you want the backsplash to stop.
At the mark you want the backsplash to stop, screw a scrap piece of wood that will create a level place where the tile will stop. The wood piece will also hold the tile in place while the adhesive dries. (This is for the central part of your wall above the oven, so there is no counter top to keep the tile in place while the adhesive is drying).
Find the center of the wall and mark a vertical line for the backsplash. Leave 1/8 inch of space around the junction of the tile and cabinets for expansion. At this point, there should be a horizontal wood board on the wall signifying where the tile stops, and a vertical center line in the middle of the wall.
Use a trowel and spread tile adhesive on the wall where you will tile. It's best to do one portion of the wall at a time and wipe the trowel off with water to prevent the adhesive from drying.
Starting at the center line you drew on the wall, apply the first tile sheet and press it with your hand. Use a scrap piece of wood and mallet to firmly press on the tile. If there's any problem with the tile sticking, this means the adhesive is too thick and you'll need to scrape off some before re-applying the tile.
Use tile spacers to make sure the tile pieces are even, and also a lever throughout the process for precision.
Once the tiles have all been laid, allow them to set for 24 hours.
Apply grout to the tiles – working in a diagonal motion. After a few hours, wipe off any grout haze that is left on the tiles.
After three days, apply a sealant to the grout to prevent any stains.

Although this is a tedious process, the money saved and value added will make the project well worth it! You now have an upgraded kitchen and a new skill! Make sure that your kitchen is not only looking good, but operating efficiently. Call Central Carolina Air Conditioning, Plumbing and Electrical to check your kitchen faucet for leaks. We'll fix any leaks and save you from expensive repairs down the road and potentially 200 gallons of wasted water per day!
Give us a call today Call to schedule your appointment today at 800-461-3010.