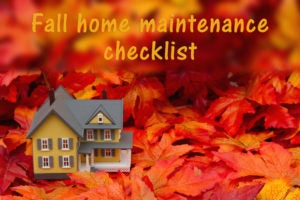 The recent temperatures have it finally feeling like fall! The summer heat that lingered into September and October is officially gone. Now is a perfect time to complete these fall maintenance tasks:
Check your roof: Remove moss from sloped areas and clear any debris from gutters and downspouts. Additionally, look for signs of damage/wear and make repairs as soon as possible.
Check Windows: Check windows seals and replace weather stripping if necessary.
Gutters: clean leaves and debris from gutters and make sure the screen covering your HVAC fan is preventing leaves from falling inside.
Outdoor surfaces:  Blow or sweep leaves and acorns before things get wet and slippery. Wet leaves can get moldy and worsen seasonal allergies. Use an outdoor cleaning solution and power washer or hose to clean walkways, porches and steps that have accumulated algae over the summer.
Outdoor Vents: Attic vents, dryer vents and exhaust ducts should be clear (check inside and out).
Basement/Crawlspace: If you have a sump pump, make sure it is in good working condition, and check for wet spots or puddles in the crawlspace. Check for pest problems – this is a good time for preventative treatment for things like camel crickets, spiders, and mice.
HVAC: change air filters and have your HVAC system and ducts professionally inspected before the first big temperature drop of the season.
For more information on how to prepare your home's HVAC, electrical, and plumbing systems for cold weather, contact Central Carolina Air Conditioning at 800.461.3010.