We've been on a weather roller-coaster with extreme temperature lows and highs this year. Swings in the seasons took us from a long, cold winter to record setting heat in the summer. This can take a toll on your home, especially your HVAC!
If you keep your HVAC in top-working condition, you will maintain a comfortable environment throughout the seasons. But, letting maintenance fall to the back burner could mean low-performing systems that result in costly repairs.
Let's look further at what components make up an HVAC, steps you can take to avoid costly repairs, improve performance and ensure safety, and optimal maintenance schedules to extend the life of your system.
What is HVAC?
HVAC is an acronym for heating, ventilation and air-conditioning systems. The systems are comprised of products like furnaces, heat pumps, air conditioners and ventilators. The ductwork connected to these pieces of equipment is another component of HVAC, as well as thermostats and other controls. Maintaining these individual parts will keep the whole system working optimally. Regular professional and DIY maintenance will ensure these hardworking parts are at their best.
What is HVAC maintenance?
There are several aspects of a proper professional maintenance visit. HVAC maintenance is when you have a trusted HVAC technician come to your home to look at your system. The HVAC technician will inspect, clean, test, and make adjustments to your heating or cooling system to ensure it is working at optimal functionality, safety, and efficiency.
HVAC maintenance involves so much and varies based on the different heating and cooling systems, but some basic components include: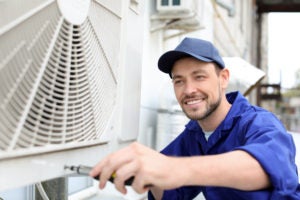 Checking thermostat settings
Tightening electrical connections
Calibrating comfort controls
Lubricating any moving parts
Clearing the drain line
Assessing unit efficiency and functionality
HVAC maintenance is more than the DIY maintenance you should be tending to regularly, like changing air filters. Professional maintenance includes the more electrical and mechanical aspects of your system. Of course, if you encounter problems while changing your filters or with your regular maintenance, you should call a specialist.
Why is maintenance essential?
Preventive maintenance helps ensure that your HVAC system runs close to peak performance. This can mean saving up to 30% on your energy bill, according to the U.S. Department of Energy.
Regular cleaning and maintenance can prevent coils and ducts from gathering allergens, bacteria, and mold that flow through the duct work and contaminate indoor spaces. Allowing buildup to occur can trigger health problems like asthma attacks and headaches and can even bring on flu-like symptom
Proper maintenance can give your HVAC system a good 15 to 20 years of use. Without regular care, an HVAC system may only last half that time.
When should you schedule HVAC maintenance?
Your HVAC system needs professional maintenance the most right before it's about to work the hardest. Ideally, you want to have the heating inspected in the fall and your cooling system inspected during the spring. This general schedule will prevent more serious issues like deadly carbon monoxide leaks or last-minute issues that leave you without a cooling option on hot summer days.
Routine HVAC maintenance schedule – what to expect and when
HVAC systems have many moving parts and components that rely on each other to make the whole system work. When something goes wrong, it can be very costly to repair. Good routine maintenance will help avoid big repairs and keep your system working properly, especially when you need it most.
Here's what you can do at home to help keep your HVAC system running perfectly:
To prolong the life of your HVAC unit, make sure it stays clean. Eliminating environmental factors will ensure better system performance. Examining the machine and clearing it of debris such as grass, leaves, pollen, and dust will allow it to maintain optimal functionality.
Be sure to take a look at your refrigerant lines and inspect for damage, leaking, or other factors that may be damaging the functionality of the lines.
Keeping your filters changed is one of the easiest ways to ensure a solid running HVAC. Even the high quality filters need to be changed on a regular basis to keep your air conditioning system running smoothly. Regularly changed filters cut down on the system's strain and can avoid the need for repairs.
Check the ground your unit sits on. Foundations and ground can shift, so it is good to perform an annual inspection on the ground that holds your AC unit. If the ground has shifted, it is best to call a professional to reinforce the foundation.
Some maintenance is as even more about safety than a well-running machine. Replace the batteries on your carbon monoxide detector. While they may not have completely died, the batteries should be replaced each and every year. Carbon monoxide can be highly dangerous, so it is better to be safe.
For more information or to schedule professional maintenance, contact Central Carolina Air Conditioning at 800.461.3010.  We look forward to helping you keep your home comfortable in every season!