When it comes to HVAC systems how do you know what's a myth and what's true about maintenance and services? Let's take a look at a few of the most common HVAC myths and dispel them so you know how to make the best decisions to keep your systems working efficiently.
HVAC Myths Dispelled
MYTH: Your filter only needs changing only once a year.
TRUTH: This is a myth and a big mistake! Change your filter every 30 days and if you have a lot of pets that produce a lot of dander and fur around the house, change out more often. This will keep your system much more efficient.
MYTH: Having the biggest system is always the best.
TRUTH: Actually, bigger is not always better when it comes to an HVAC system. In fact, if you have a system that is too large for your home, it can be much less efficient and less effective in removing humidity. It's best to have a professional decide on the right size HVAC unit for your home.
MYTH: You don't need to maintain your HVAC system unless it's broken.
TRUTH: Regular maintenance on your HVAC system is crucial. This will prevent large and expensive problems and ensure that your system is working properly. Maintenance with an HVAC specialist will save you costly and major repairs down the road.
MYTH: It's easy to find air leaks in your home.
TRUTH: It sounds simple to find an air leak around your home, but even some of the biggest leaks can be difficult to detect. It's best to ask an HVAC service technician to find and properly seal leaks that are wasting energy and making your system inefficient. During your regular check, ask your technician to also check for leaks. This will ensure your system is running properly and efficiently.
MYTH: The best way to change the heat or cooling your home is to turn up the thermostat.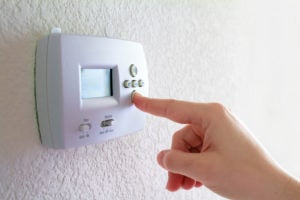 TRUTH: While your thermostat setting controls the temperature, your home may never reach that temperature, especially if your HVAC is not working optimally. If your HVAC system needs maintenance, if your home needs new insulation or there are serious leaks, the system will have a difficult time heating and cooling properly.
Hiring a professional
When you hire an HVAC company to help service your system, ask them to:
Evaluate if the size of your system is right for your home.
Replace a new HVAC system in your home if it's determined that you need one.
Perform regular maintenance to prevent bigger problems and keep your system running efficiently.
Test for leaks that may be making your system inefficient.
Troubleshoot any other potential problems with your HVAC system.
It's always best to ask your HVAC professional if you have a question about what's true or a myth in maintaining and maximizing your home system. For expert assistance, call Central Carolina Air Conditioning, Plumbing, & Electrical at 800.461.3010.