Have you ever noticed that there are certain areas of your house that always feel colder in the winter and warmer in the summer?  Rooms like this will sometimes be at the end of a hallway, or on a second or third floor. If the issue isn't something like blocked air vents or returns,  it might be that you need to consider adding an additional HVAC unit or re-configuring ductwork to improve airflow.
Older homes can have ductwork that is torn or sagging from natural wear and tear, which can allow air to escape in the crawl space or attic. Older homes might also have HVAC units that can't really handle the load of heating and cooling your space. Particularly, if you've added on to your home or increased the livable square footage, adding a second unit might be necessary.
Even if you live in a new home, your HVAC unit might not truly be adequate enough for your square footage. This can take years off of the life of your system.
Having to use secondary sources of heating and air, like a window unit or space heater, can significantly increase your electric bill, so here are some things to check: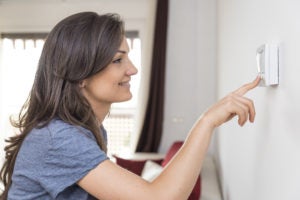 Make sure all vents are clear and not being blocked by furniture
Make sure all return vents have clean filters
Keep doors open – even rooms that you're not using
Close vents in rooms that seem too cold when using the air conditioning and too warm when running the heat
If you're still having issues with air temperature consistency in your home, call Central Carolina Air Conditioning, Plumbing & Electric at 800.461.3010 to have your HVAC system and ductwork inspected.