The number of people who work from home has increased over the years. More companies are also allowing for this option within their company structure. When working from home, however, you need to have an efficient system for optimal internet speed and performance. We'll walk through an ideal system for you to set in place before you start working from home. If you already work from home, you may need an update in your current wiring system to improve your work productivity.
The essential wiring and functions for a home office include high-speed internet and networking. Structured wiring is an ideal package for a home office, as it provides fax, phone, broadband, networking and video/television technologies.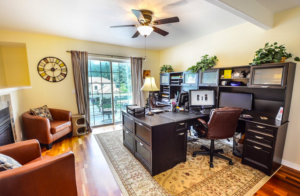 The system is comprised of 3 parts:
The first part is a panel that allows outside services to enter the home.
The second part is the wires and cables that run throughout the home.
The third component is the connecting hardware.
There is also an option to get a prepacked system. The downside with getting a prepacked system is that there's a possibility a few of the outlets may be left unused. There's also a possibility that you may need outlets in areas where there aren't any, and so you'll have to get outlets built in there which will require more work.
Before you take any action and start wiring, make a home office plan. Once you have a room selected, create a plan of where everything will be located in that room, and where you will spend time doing certain tasks. You'll need a designated place for the computer, printer, phone, etc. Regardless of the home-office plan you choose, it's important to not skimp when determining which cables and systems you want to choose for your home office.
There are a lot of cheap options and wires out there. It's safe to go with name brand wires and pay more for the quality you'll be receiving. The name brand wires will also last a longer time. You may be wondering what kind of cost you should be anticipating for a home office. Well, this depends on a few factors like how robust your system of choice is. If you are building new construction, you can expect the cost of a full wiring system to be 1-3% of your home's value. If you are changing a room in your existing home into an office, the price will depend on the system you choose, and also how much navigation will be required to wire everything.
Although there are DIY steps to complete wiring for a home office, it's always safe to call a professional. Dealing with anything electrical can be hazardous and pose a threat to your safety and the safety of your home. If you're investing a significant amount to install a home office, you want to make sure it's done the right way.
Call Central Carolina Air Conditioning, Plumbing & Electrical to install the wiring for your home office! While we're out there, we can perform a thorough scan of your home, looking for any hot spots in your electrical system. We will also test the ground fault outlets to make sure that they are functioning properly.
Give us a call today to schedule your appointment at 800-461-3010.