Not only is it frustrating, but even worse, in some cases, it can mean there's a fire hazard. Finding out why your light bulbs keep burning out too soon is crucial.
How long should bulbs last?
Incandescent bulbs should last for about a thousand hours. Compact fluorescent (CFL) bulbs and LEDs (light-emitting diode) typically last much longer – about 10 thousand usage hours for CFLs and 25 thousand hours for LEDs. Still, if your bulb is burning out before it should, it's time to find out why.
Why do my light bulbs keep burning out too soon?
There are many possible reasons, here are the main ones: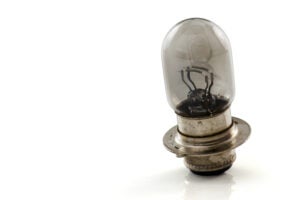 You may be using the wrong type of light bulb in a certain fixture.
A bulb may be loose or incorrectly connected.
The bulb's power supply voltage may be too high.
The dimmer switch may require a different bulb.
Recessed lighting may be causing overheating in the insulation about it.
Filaments in the bulb could be broken due to excessive vibrations.
Wrong bulb type
If a lamp is rated for 40 watts, placing a 1o0-watt bulb in the fixture creates excess heat. This can shorten the bulb's life, and possibly even cause a fire to start. Always make sure the bulb's wattage is not more than the fixture's wattage recommendation. Another possible problem is that the bulb is not right for its location. LED bulbs are better to light fixtures that have frequent on/off usage throughout the day, but CFLs are not.
Loose bulbs
You may notice a bulb flickering if it is loose. Check to make sure that the bulb is correctly connected into the socket and if it's loose, turn it until it's snug. Ideally, the fixture's tab and the bulb solder should be roughly the same size. This will create a good connection between them. If they are not, try switching light bulb brands.
Wrong power supply voltage
In the United States, 120-volt electrical outlets are standard in homes. Be sure that the light is connected to a standard outlet. If it is, use a multimeter to check if the reading is more than 120 volts. If you are having electrical supply issues, contact a licensed electrician right away.
Dimmer switch with incompatible bulb
Using CFL or LED bulbs can damage the bulb or circuitry in an older dimmer switch. Those were made to be used with incandescent bulbs. Be sure your dimmer switch and light bulb are compatible.
Recessed lighting overheating
"Can lights" hang inside the ceiling. Newer models may be designed to be in contact with insulation (IC-rated) and not cause any problems with overheating, but older recessed lighting fixtures can overheat. If they are not, this situation poses a fire risk. Be sure to install IC-rated fixtures so that they don't overheat insulation.
Broken bulbs due to vibration
Excessive vibrations like ceiling fans or automatic garage doors can crack or prematurely cause incandescent bulbs to burn out. If the problem bulb is near an entrance, in a ceiling near heavy upstairs foot traffic, or in other places where there are vibrations you may want to switch to an LED bulb. They are better designed to handle vibrations.
If you're concerned about your home's electrical system, call Central Carolina Air Conditioning, Plumbing, & Electrical at 800.461.3010.