As the temperatures climb higher and higher, so do our electric bills! If you're worried about how you can stay comfortable and save energy, check out our summer energy efficiency tips.
The Department of Energy offers some great advice for saving energy in the spring and summer months. We've compiled several of our favorites tip to help you – and your wallet – survive summer!
Use Window Coverings
Blinds, curtains, and shades offer more than just decorative appeal and privacy – they can provide insulation and prevent your windows from letting in the sun's heat. Cellular shades typically have the highest R-value (measure of insulation) of any window coverings and can reduce unwanted heat from the sun through windows by up to 80%! Curtains can be a good choice too, but their insulating power varies widely depending on the fabric type and color.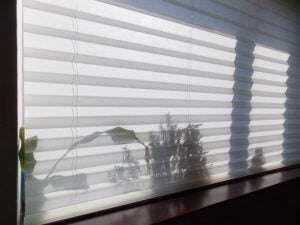 Blinds are another popular choice. Unlike shades and curtains, blinds allow much more control over the amount of sunlight you let in. Horizontal blinds can even be adjusted to reflect rays onto a light-colored ceiling, which lets you enjoy the light without all the heat. If you don't want to sacrifice your view, then window films (especially those with UV blockers) are a good option. They may require a little extra care when cleaning, but the benefits may be worth it.
 

Keep Hot Air Out
Doors, windows, recessed windows, and fireplace walls are common hot spots (literally) where hot air can enter and your cool air can escape. Weatherstripping and caulk can seal these areas and improve the efficiency of your home, but first you'll need to identify the trouble spots.
If your windows are in poor condition, you're likely losing a lot of energy through them. Caulk, weatherstripping, window coverings, and storm panels can all help make your windows more efficient. If you're in the market for new windows, be sure and look at the ENERGY STAR and NFRC ratings before buying.
Adjust Your Thermostat
If you don't already have a programmable thermostat, check into upgrading! This type of thermostat lets you automatically set your home's HVAC system to a warmer temperature when you're away and cooler when you are home. The closer you can keep the indoor temperature to the outdoor temperature, the lower your electric bill will be. That can be pretty tough when it's over ninety degrees outside, so try and find a temperature that reduces humidity and provides comfort.
Remember that your thermostat senses the temperature of the room right around it. Avoid putting lamps or electronics next to your thermostat, as they put off heat. The additional heat may confuse your thermostat's sensors and make your air conditioner run unnecessarily.
These summer energy efficiency tips are a great start. If you need professional help with your home's energy efficiency, call Central Carolina Air Conditioning, Plumbing, & Electrical at 800.461.3010.