The energy bill during the winter months is often something that homeowners dread paying, as they spike the thermostat settings to keep their homes warm and cozy. This does not have to be a high expense even in the winter months, and there are some tips that we'll share that can save you money and keep your energy bill lower!
Take the Following Steps to Stay Warmer at Home:
Open the curtains during the day.  
During summer months, you probably keep your curtains closed to block unnecessary heat. Use the sun to your advantage during the winter               months, and allow it to bring warmth into your home! Once the sun has gone down, close the curtains to keep the heat inside.
Heat the rooms that you actually use.
Seal off the vents in any bedrooms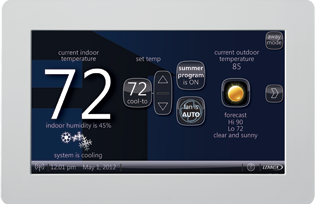 Make sure your furnace filter is cleaned and that your vents are properly maintained.
As we talked about in a previous post, getting a humidifier for your home will help the air feel comfortable at a lower temperature. This means that you won't have to crank up the heat and spike your energy bill in order to feel warm and comfortable in your home.
Use your exhaust fans sparingly. While it may come as a surprise to you, frequently using exhaust fans during the winter can lead you to increase the thermostat in your home. Exhaust fans pull the hot air that
Properly insulate your home, so that there is no heat escaping! You can start by weather stripping your doors and windows, then the attic to ensure that your whole home is insulated and keeping all the heat in.
Without an efficient furnace or heating system, these tips won't do much to save you money, because your system will have to twice as hard to produce a normal amount of heat. So whether it's preventative maintenance, full replacement, or products and services to enhance your heating, Central Carolina Air Conditioning, Plumbing & Electrical can provide 24/7 service to make sure your heating system is running smoothly and efficiently! While we're out there, we can also check and repair insulation so there is no unnecessary heat loss.
Give us a call today Call to schedule your appointment today at 800-461-3010.