Whether you are hosting a household of guests that includes a child, or you have one of your own, it may be a good time to consider if your bathroom is childproof. Out of all the rooms in your home, the kitchen and the bathroom provide the most hazards to children. With all the activity in your home, it's easy to lose track of a child for a moment or for them to wander quietly into the bathroom before you even realize they're gone. There are a few ways ensure that your children or your guest's children will be safe and out of harm's way from the potential hazards in your bathroom.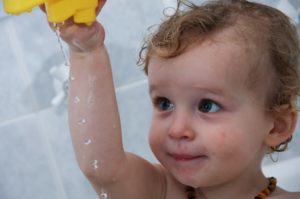 The first line of defense when childproofing your bathroom is to install a hook-and-eye lock on a high placement outside the bathroom door, or you could place a childproof cover on the door knob.
Don't keep anything plugged in close to the tub or the sink. Always remove any electrical items after using them.
Install a toilet lid to prevent children from lifting and putting things down the toilet which potentially causes a plug, or could pose as a threat if they fall in.
Another way to protect your child in the bathroom is to make sure they don't get accidentally  burned from hot water when taking a bath. It can take just three seconds of the wrong water setting for your child to get a serious burn. Install an anti-scalding setting on your faucets. You can also have your water heater set to 120 degrees Fahrenheit so that the water never gets to a point that could cause a burn.
Central Carolina Air Conditioning, Plumbing & Electrical can come out and set the temperature of your water heater to 120 degrees Fahrenheit to prevent any burns. We can also install an anti-scalding setting on your faucets as well. While we're out there childproofing your home, we can perform dye tests on all your toilets to ensure that there are no water leaks, which equate to money wasting. If your toilets are connected to a septic tank and there's a water leak, then you could be wasting even more money! Not only can we provide dye tests, but we can also check all faucets in your home and all exposed hot and cold water lines to identify and repair any water leaks in your home.
Give us a call today to schedule your appointment! 800-461-3010.