Whether you're in a new home or used home, the kind of toilet you use is an important decision. Although it's a needed appliance, the choices used to be almost non-existent. Today, there are now options on the market as more research has been released showing the importance of finding the right toilet for your needs.
There are benefits and draw backs for each one. Keep in mind a couple things when considering your choices – whichever toilet you choose should allow you to be able to easily rest both feet on the ground. You should also be able to easily get up and sit down.  A significant amount of research concludes that the ideal position for use of a toilet should be a squat position with the hips below the knees.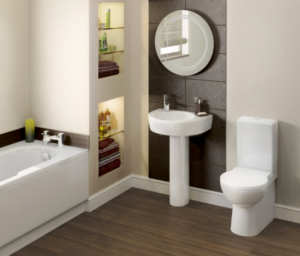 Standard Height Toilets:
These are typically the best option for shorter people, as they are only 15 inches above the ground.
Standard height toilets come in multiple colors and styles.
Depending on the brand, they usually cost more.
Comfort Height Toilets:
Because they are 16-19 inches above the ground, this option is ideal for taller people.
The extra 2 inches of height is not only beneficial for tall people, but often the choice for elderly and disabled.
Comfort height toilets also are available in a variety of colors and styles.
They are recognized as ADA (adults with disabilities) compliant.
Generally, comfort height toilets are a less expensive option, although the cost difference is marginal.
Central Carolina Air Conditioning, Plumbing & Electrical can help you determine which height works for your family and can also perform dye tests on all your toilets to ensure that there are no water leaks, which equate to money wasting. If your toilets are connected to a septic tank and there's a water leak, then you could be wasting even more money! Not only can we provide dye tests, but we can also check all faucets in your home and all exposed hot and cold water lines to identify and repair any water leaks in your home.
Have more questions? Call us—we'd love to help! Call the professionals at Go Green Plumbing at 336-252-2999 for service 7 days a week/24 hours a day. If water runs through it – We Do It!