As we mentioned in previous posts, summertime is often the best season to take on home projects. The long daylight hours are perfect for outdoor and indoor projects alike. One of the indoor projects that adds instant value and appreciation to your home is kitchen tile backsplash. The kitchen and bathrooms are primary areas of the home that everyone looks at when considering buying a home.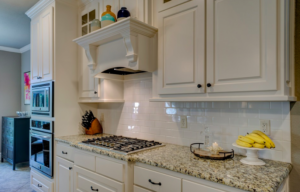 Adding tile to the kitchen is a different process than adding tile to the bathroom. The kitchen does not have any areas that are considered "wet areas" with backerboard. So it will be a simpler process from that perspective, yet still a tedious process that requires patience.  Follow these guidelines for a successful enhancement to your kitchen!
Turn off the power to your kitchen.
Wipe down and clean all wall areas that will be tiled. A mixture of water and liquid dish soap will remove any stubborn grease stains.
Cover your countertops with a drop cloth or some other protective material.
Take off all outlet covers and switch plates. Move all the appliances that are close to the areas you will be tiling.
Tape off the cabinets and the area where the counters meet the wall. Be sure to also tape off the outlets.
At this point, you've prepped your walls and are ready for measuring and the tile installation! Read our next post for how to finish DIY kitchen tile installation! Cosmetic upgrades add great value to your home – however, you can also add value by making sure your home is operating efficiently as well. Call Central Carolina Air Conditioning, Plumbing and Electrical to check on your water heater, drain pipes, exposed hot and cold water lines, faucets for leaks and ventilation systems!
Give us a call today Call to schedule your appointment today at 800-461-3010.