Although you may not be able to predict and prepare for any sudden problem in your home, there are certain lengths you can and should go to that will allow you to respond quickly to these problems. Instead of having to run to the closest hardware store every time something breaks in your home, you can be prepared with a tool kit that will help fix most of the minor problems that could arise.
Drills and Bits – Buy a battery-operated drill and a variety of different sized drill bits, and you'll be all set for multiple fix-up tasks!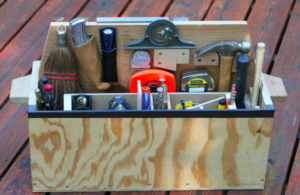 Wrench set – Used to unfasten and fasten bolts, a wrench set is a necessary staple in any homeowner's set.
Hammer – The size of the hammer head should match the size of the nails you buy with it. So a bigger hammer is best used with larger nails.
Tape Measure – This will come in handy during many situations, from measuring your windows for a new set of blinds, to checking square footage of rooms.
Utility Knife – Definitely a necessity – a utility knife will allow you to effectively open any package or box.
Pliers – Used for gripping pipes and twisting wires.
Safety Items – Anytime you perform tasks that require the tools above, it's best to use the appropriate safety items like gloves, eye goggles, and ear plugs.
Caulking Gun – Use your caulking gun for any gaps or holes that may appear, such as windows or door frames or for filling in holes around your bathroom or shower!
Screw driver set – A variety of screw driver sizes are useful for changing air filters, electrical outlets, cover plates or adjusting furniture and fixtures.
Refer to your tool box to handle all the minor fixes needed in your home. While this tool box will have you prepared for any unexpected minor repairs, you'll definitely need professional assistance to fix the unexpected larger repairs such as a plumbing or electrical problem. Central Carolina Air Conditioning, Plumbing & Electrical will be there 24/7 to help!
Give us a call today Call to schedule your appointment today at 800-461-3010.