How To Stain Your Deck
You may be utilizing these long summer days by taking on extra household projects and tackling them yourself. You'll save money this route and learn new skills, however, it's always good to be educated and prepared before taking on any project. If you're considering a revitalized look and feel to your back deck, then consider these simple steps below that will guide you through the process to a beautiful end result!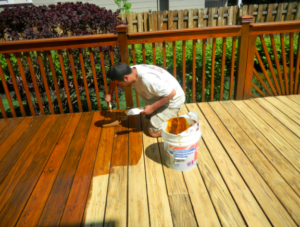 Clean the deck surface before applying any stain. If there are any marks, dirt on the deck, the stain may not stick to those areas and it could peel. Start by sweeping off your deck, then do a clean wash to remove the extra layer of dirt and marks.
Apply cleaner to the deck. You can do this a few different ways – either roll on the cleaner or you can spray on the cleaner. Whichever method you choose, make sure that the wood stays wet while the wood is soaking up the cleaner.
After 15 minutes, scrub the wood so that the cleaner is worked into the wood. Use a hose to wash away any remaining residue on the deck surface.
Now that the cleaning and prep work is done, it's time for the fun part of applying the stain!
Use a roller or a brush to apply the stain. If you do choose a roller, you may want to follow-up with a brush to ensure that the stain is applied fully and set in.
If one coat is not enough, apply a second coat of stain. It's best to wait at least four hours after the first coat has been applied before layering with a second coat.  And be sure to wait at least 24 hours before walking or placing objects back on the deck to make sure it's completely dry!
Your outdoor hose is required multiple times throughout the staining process. It's safe to make sure that your faucets and outdoor water sources are performing optimally. Call Central Carolina Air Conditioning, Plumbing  & Electrical and we'll check all emergency water shut-offs for proper performance and tag main emergency shut-offs. If your emergency shut-off does not work when you need it, there could be big problems. We can also check all your lawn faucets for any leaks that could be wasting your money.
Have more questions? Call us —we'd love to help! Call the professionals at Central Carolina Air Conditioning, Plumbing & Electrical at 800-461-3010 for service 7 days a week/24 hours a day.