Help, I need a new hot water heater! Tank vs. Tank-less?
What Type Do of Water Heater Do You Have?
Whether it's a cold shower that tips you off, or a wet floor in the garage, the timing of a broken hot water heater is never ideal! And in most cases, there's no notice your hot water heater is giving up at all. But when it does, you have a couple options. If your broken hot water heater was working sufficiently for you before, you can replace it with a similar hot water heater. If this is a floor standing model, this is likely your most cost-efficient option up front.
Regular Water Heaters
Unfortunately, if you had an older hot water heater that ran the course of its life, you may not be able to find that same model anymore. Additionally, if you have had challenges with the older model keeping up with your household's hot water demand, you could either increase the water storage size or move to a tank that has a higher recovery rate. But keep in mind, if the size of the hot water tank is different than your original tank, you may have to make modifications to the space in which you install the hot water heater, which is an additional cost.  Gas hot water heaters often cost more than electric hot water heaters so keep that in mind and what you already have set up before purchasing a new one.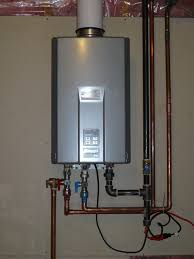 Tankless Water Heater Options
Your other option is to install a tankless hot water heater.  Despite the higher price point, they're often more energy efficient and will likely save you money on your electric bill or gas bill long-term. A tankless water heater is an on demand system. It only heats the water once you turn it on. When it is sitting idle there is no energy used.
If sized properly, tankless hot water heaters can heat your whole house. You can place a hot water coil in your air handler. The tankless heater would circulate the hot water through the coil like a radiator on our car to heat your home. They can heat your home's hot water as well all at once. Very rarely do you run out of hot water with the tankless heaters.
No matter what type of water heater you need, Central Carolina Air Conditioning, Electric & Plumbing is there to help.  Call to schedule your appointment today at 800-461-3010 and we will come out and review options with you on what's right for you and your home!