If you've had a broken ceiling fan for a while, you probably feel the need to fix it during the heat waves of summer.  This is not a daunting task, if you have basic electrical skills, or can quickly learn basic electrical skills. Allow for some patience during this process, and plan on taking a couple breaks during the fan installment due to the heavy weight of the fans. It's much easier if you have someone helping you!
– Start by turning off all the switches to the ceiling fan, and then cut the power off at the circuit breaker box. (Make sure you have the proper switch, if you are going to control your fan with a wall switch. Depending on the brand of the fan, some may only be set to operate from a preset multi-speed switch).
– Make sure the wires are disconnected before removing the old fixture.  Check the electrical box to make sure that the ceiling is properly suited to hold the weight of a ceiling fan. You will probably find a fan weight rating inside the electrical box that will indicate whether the ceiling can hold the weight of the new fan you wish to install.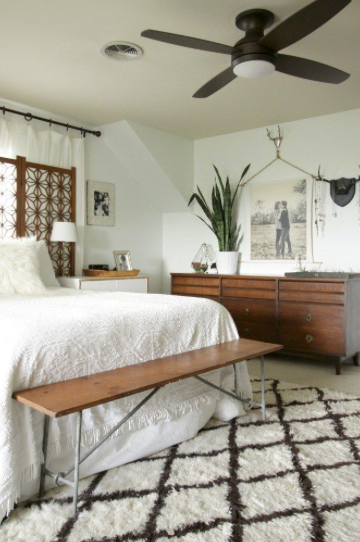 – Next, follow the fan instructions for the particular ceiling fan you are about to install. Most ceiling fans come with the light fixtures pre-installed.
-Instructions may require you to cut and strip the fan wires to fit accordingly.                           
-Hang the fan on the hook, if your ceiling plate or mounting bracket comes with a hook to support the wiring.
-While still following the manual instructions, connect wires using a wire connector. There should be no visible wires after the connecting process, except for the green ground wire.
–Follow the manual instructions to attach the fan blades, which may need to be screwed on, or clipped on, depending on the fan model.
-If the fan is too wobbly, you can either attach a balancing kit that may be included with your fan, or you can buy them separately.
-Finally, turn switch back on at the circuit breaker. 
If you don't have time or the patience to install a ceiling fan, give Central Carolina Air Conditioning, Plumbing & Electrical a call and we'd be happy to install it for you! While we're out there, we can check your Air Conditioning Unit to make sure it's running efficiently, so that not only your new ceiling fan but also your AC unit are providing the most comfortable atmosphere in your home!
Give us a call today Call to schedule your appointment today at 800-461-3010.