Plumbing Service Greensboro, NC and the Piedmont Triad
Do you need a plumber in High Point, Greensboro or Winston-Salem that will maintain your home's plumbing system? Central Carolina Plumbing offers a maintenance program within the Whole House Agreement that helps keep your pipes in good working condition.
Our plumbing experts will visit regularly to check your plumbing system including areas such as the water heater, drain pipes, hot and cold water lines, washing machine hoses, and faucets for leaks, age, proper ventilation, and locations of probable malfunctions. We'll bring these to your attention and provide you with a written quote for any recommended repairs. Then, we'll schedule the repairs for
a time that's convenient for you and by making the repairs before the condition worsens we'll be helping you save money.
From full water/sewer replacements to repairing or installing new plumbing fixtures  Central Carolina Plumbing is the Greensboro, Winston-Salem and High Point plumber you can rely on to keep your plumbing system in the best, most efficient condition.
Central Carolina Plumbing was formed by Central Carolina Air and offers the same dependable service to our Triad customers. We're proud to be accredited with the Better Business Bureau for 28 years and to have received the BBB's A+ Rating.
Conserve Water and Energy Automatically
Water and energy conservation are so intertwined that they are practically synonymous. Any reduction in the usage of water will automatically result in a reduction of the use of energy. What this means, therefore, is that our whole philosophy on the use of water is changing. We are finally recognizing that we have been "water rich" over the years and that it is now time to get back to reality by adjusting to our actual need and to practice good conservation principals.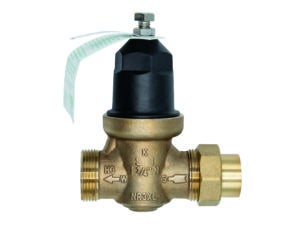 Water Pressure Reducing Valves are a simple way to conserve water and energy if your water pressure is 80 psi or above. These automatic controls are installed in the crawl space or near a shut off to reduce the city main pressure to a lower, more functional pressure-for most purposes: 50-60 psi.  This also helps save the life of water fixtures.
Water pressure reducing valves are a cost effective way to save money on your water and sewer bills normally having a payback period of about 24 to 30 months. A pressure reducing valve can save the average home between 30,000 and 40,000 gallons of water per year. Since a typical family of four uses approximately 93,000 gallons of water per year, the savings can be significant. As you can see, the higher the water pressure, the greater amount of water that is wasted.
Did you know that you may be able to save money on your water bill and sewer bill?
It is not uncommon in our area to pay one-half cent ($.005) per gallon for water and sewer use. The numbers above show what wasting water can cost you. Waiting to stop water leaks costs you in two ways. You must pay for the water wasted and delay can cause more extensive repair of the drains leaking.
Compare bathing vs. showering for water usage. Mark height of water with tape during bath; take a shower with the tub stopped and compare the water level.
Install the stopper before turning on the water. Initial cold water can be warmed by adding hot water.
The difference between a five-minute and ten-minute shower could mean a savings of up to 45 gallons. Consider installing water saving shower heads.
A dishwasher uses three to five times as much water as washing dishes by hand.
Only wash full loads in your dishwasher. Soak pots and pans overnight if required.
If you are in need of a plumber in High Point, Greensboro or Winston-Salem, Central Carolina Plumbing is your reliable local professional. Call 1-800-461-3010 or contact us for more information, to request a proposal or to request a repair.