It's not uncommon to have a windowless bathroom in many different sizes and styles of homes. Sometimes these bathrooms are used for guests, are only half bathrooms, or the layout of the house was built with the bathroom in the interior. A windowless bathroom doesn't have to be dreary with only dim light. We will tell you how to light your windowless bathroom for function and style. Brighten things up, it can really make a difference!
Ambient & Task Lighting
If you bring in ambient light and task lighting into a bathroom with no windows you create a bright, functional space. Start with overhead lighting that's bright and projects throughout the room. Add focused lighting directly over the vanity or mirror to make bathroom tasks like washing your face, applying make-up or shaving a breeze.
Light Bulbs
Knowing the lighting options you have will help you choose the best bulbs for the right location. Making a good decision is more than just choosing a high watt bulb. Light quality is based on a few factors so take a look at different options that are available.
For bathrooms there are two main types of bulbs available – you do not want to use a compact fluorescent light (CFL) in this space. You can use halogen incandescent or light emitting diodes (LEDs.) Many pros use LEDs for windowless bathrooms. Incandescent bulbs will work fine, but LEDs are much more energy efficient, lasting 25 percent longer than incandescent bulbs.
The measurement for bulb brightness is lumens. For a windowless bathroom, the ideal total lighting is 2,000 lumens at a minimum. Most household bulbs emit about 800 lumens, or the equivalent to a traditional 60 watt incandescent bulbs. A light fixture that is centered overhead and takes two or three bulbs will get you the lighting you need and makeup for not having natural light.
Color Options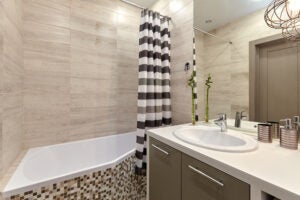 You also want to consider the color of the light you want to shine. Color temperature is measured in Kelvins. It rates the color or tone of light. All you need to know is lower color temperatures are warm tones – yellow to soft white – and higher temperatures indicate cool, bright light with blue undertones. Consider something in the 3000K to 4000K for general lighting in a windowless bathroom.
Also, the color rendering index (CRI) tells you how an object's color appears under the bulb's light when compared to how it appears in natural lighting. A higher value indicates a more true representation of color, like incandescent bulbs. For bathroom lighting look for a CRI of 90 or higher. This will work well for task lighting that provides light over the bathroom mirror. Try LED for optimal lighting for makeup application.
Light Fixtures
Many different types of light fixtures work well in bathrooms. If it's a small space you may want to avoid low-hanging lights. Choose clear or white shades so the light shines through. Moisture accumulation is common in bathrooms, so recessed lighting may not be the best choice. It can allow moisture to escape into spaces above the ceiling.
If you are lighting a vanity sconces on each side of the mirror will minimize shadows from overhead lights and add an elegant touch. For a more contemporary look check out Hollywood style kits where globe sets or rope lights are placed all around the mirror.
Dimmer Switch
There may also be times you want to relax in lower light at the end of the day. Installing a dimmer switch to control the brightness for overhead lighting will allow you to adjust lighting. You can get a dimmer switch for all types of bulbs. Always check the dimmer's label for information about what light bulb it's compatible with.
If you need the assistance of a licensed electrician, call Central Carolina Air Conditioning, Plumbing, & Electrical at 800.461.3010.