It's important to have your home ready for the coldest months of the year and have everything operating in proper condition. It's especially vital to make sure that your hot water heater is maintained and running like it should, otherwise you face the risk of taking cold showers during the freezing months! Your hot water heater can also take a beating in the midst of the cold weather, which is yet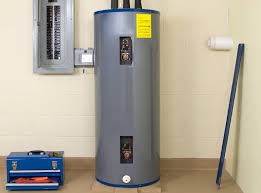 another reason to have maintenance performed. Regardless of the make or model, it needs to be winterized. Here are some ways to winterize your hot water heater:
Flush Out & Clean Your Water Heater
Just like rinsing out a glass, your water heater needs to be flushed out and cleaned. After water continually running through it, there is a natural sediment build-up. If you'd like to do this maintenance step yourself, you can do it by turning off the water heater, let it cool down, then attach a hose to the drain valve and find a place to allow the water to properly drain.
Insulate Your Older Tanks
If you have an older tank, insulate it so they can hold heat better. There are fiber glass insulation blankets that keep your tank warm so that the water pumping through your showers also stays warm.
Pressure Release Valve
A water tank needs an actual pressure release valve to keep it from bursting. During the winter time, it's especially important to add this to your maintenance list. You can check this by lifting the lever on top of the valve a couple times to check for any leaks. There should be a faint hiss sound or water when you open it. If you don't hear any of those noises, it's time to replace it immediately.
It's Important to Have a Proper Vent Draft
Make sure there is proper vent draft so that your water heater is not allowing excessive formation of carbon monoxide. This could pose a serious risk if it enters your home.
Check for Gas Leaks
If you have a gas water heater, check for any gas leaks from the water heater shut-off valve to the burners. Any leaks could be dangerous and also costly, due to higher gas bills. .
Check for Water Leaks
Water leaks can also reveal a serious problem. Check to make sure that your water heater does not have any leaks which could also be costing you significantly more each month.
Some of this maintenance requires a professional's help, and we're here for you 24/7! Call Central Carolina Air Conditioning, Plumbing & Electrical to perform maintenance on your electric or gas hot water heater.
Our maintenance will include things like flushing the water heater, relief valve testing, checking for water leaks, testing the emergency cutoff, inspecting the drain valve operation and much more! We want you to have peace of mind that your hot water heater is operating efficiently, and that your showers will continue to stay warm!
Call to schedule your appointment today at 800-461-3010.