Air Conditioner Installation Greensboro, High Point and the Piedmont Triad
Air Conditioning Installation Services
As North Carolinians ourselves, we know that when an air conditioning system goes out, finding a quality replacement is serious business. Often, you're faced with an unexpected expense and an uncomfortably warm home environment that pressures you to make quick decisions. Central Carolina Air Conditioning, Plumbing, and Electrical is a reliable, local AC installer that can help you make the right choice for your home and family. We'll help you consider the expected life of the HVAC system, energy efficiency, warranties and maintenance costs so you can quickly, confidently, and affordably cool your home.
Does your home currently have hot or cold spots when the air conditioner is running? We can review each zone and determine how to distribute air more evenly throughout the home.
Air Flow and Duct System Analysis
Many duct systems are improperly sized, have leaks or were poorly designed to save money when the home was built. Our Air Flow Specialists can evaluate your current duct system and provide recommendations to improve efficiency and comfort.
Why a Manufacturer's Warranty May Not Be Enough
All air conditioning equipment manufacturers' extended parts warranties:
Require you to purchase seasonal preventive maintenance
Exclude condensate pumps, secondary drain pans, refrigerant, etc. and associated labor repair costs
Most manufacturers' extended labor warranties require you to pay for diagnostics, labor to obtain parts, after-hours calls, and shipping costs.
Comfort Plus Program Coverage
Any product that is installed under our Comfort Plus Program is eligible for five years of coverage which includes major components like compressors, reversing valves, or heat exchangers on any split system. If they fail, we will replace the condenser or furnace.
The following items are also included in this program:
Maintenance
Warranty Processing Fees
Drain Pans
Labor For Repairs
24 Hour Emergency Service
Condensate Drains
Refrigerant
Thermostats
Additional Materials Used For Repairs
Accessories
Refrigerant Lines
Equipment
Overtime Rates
Condensate Pumps
Freight and Shipping
Diagnostic Fees
Electrical Disconnects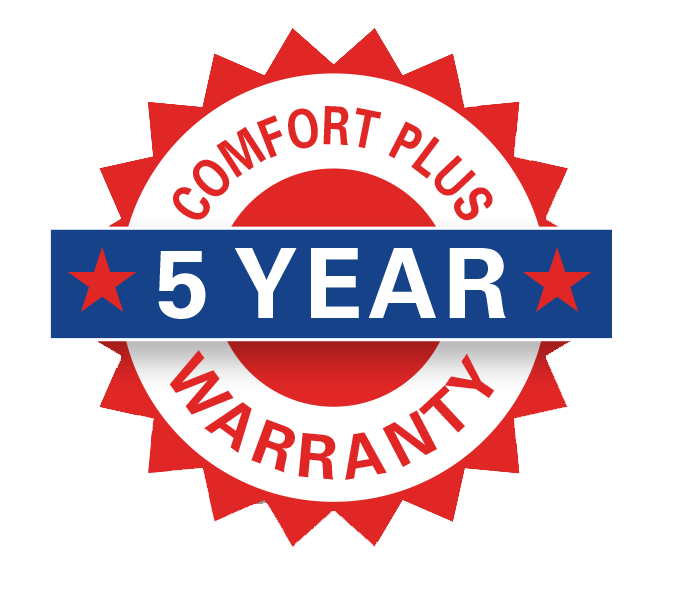 Protecting Your HVAC Investment
Proper air conditioner installation and maintenance can make a huge difference in how long your AC system lasts and how well it performs. Our Comfort Plus Plan provides five years of coverage on all parts, plus free labor, diagnostics, refrigerant,  and seasonal preventive maintenance for your HVAC system. You can also choose to extend the Comfort Plus coverage for five additional years.
Ready to start the conversation to replace your cooling equipment? We would love to connect with you and help. Simply fill out the form below providing your contact information and any other information you care to share. A Central Carolina Air Conditioning expert will be in touch with you within one business day to discuss your needs.