Air Conditioning Installation Greensboro, NC and the Piedmont Triad
Air Conditioning Installation
Has your current Air Conditioner reached the end of the line? We can help with Air Conditioning installation. At Central Carolina Air Conditioning, Plumbing and Electrical, we understand that selecting a new Air Conditioner is a big commitment. Allow us to introduce you to the most reliable, energy efficient air conditioning systems priced within your budget that will give you years of quality service.
Central Carolina Air Conditioning will help you choose the right Air Conditioner for your home by providing you with all the necessary information to make an informed, cost-efficient decision. When you're ready, we'll install your new Air Conditioner and get it running ASAP.
Since the professionals at Central Carolina Air have been in the HVAC business for nearly 50 years serving Greensboro and the Triad, we've seen it all and can answer any of your questions before, during, or after the ac installation process.
As a Central Carolina Air Conditioning customer, you will always have the advantage of our 24/7 emergency services. So if something does go wrong, even during the night or over a weekend, you have our guarantee that we'll be there to quickly repair it.
Also as a Central Carolina Air Conditioning customer, you have the assurance that you've got professional service technicians and quality products on your side, providing you and your family with trusted, reliable, and affordable comfort year round.
Zone Systems
Many homes today have hot or cold spots because the current heating and cooling equipment can't get the proper amount of air to the space. Central Carolina Air Conditioning can use your existing system (assuming it is properly sized) and provide a system that will ensure each section of your home is getting the proper amount of cooling and heat it needs to provide the comfort you want.
Air Flow Analysis/Duct System Analysis
Many duct systems currently in place are improperly sized, have leaks, or were poorly designed to save money when the home was built. A duct system with any or all of these problems will increase your costs and decrease your comfort regardless of the age or efficiency of your heating and cooling system.
Our Air Flow specialist can determine if the system is properly sized for the heating and cooling requirements of your home. They can determine if the duct system is adequate to meet those needs and give you a solution that will lower your costs and increase your comfort.
Comfort Plus Program
Central Carolina Air Conditioning & Heating Installation in Greensboro has long believed that a properly installed, well maintained system will provide many more years of operation and comfort than one that is not. Our exclusive Comfort Plus and Comfort Plus Extension plan were developed to provide the customer with the best coverage in the industry.
When you purchase a Comfort Plus System from Central Carolina Air Conditioning, Plumbing & Electric you not only get the highest level of quality on your installation, you get five years of coverage on all parts, labor, and preventive maintenance. We also commit to an annual price, beginning at year six, to extend this coverage for five years with our Comfort Plus Extension.
During this time you will not pay for any parts, labor, refrigerant, diagnostic charges, or trip charges. In addition, you will get seasonal preventive maintenance every year. In simple terms, you will know the complete cost of your system installed by Central Carolina Air Conditioning (except your energy cost) on the day you buy your Comfort Plus system from us.
The Simple Truth About Manufacturers Warranties
All extended parts warranties offered by equipment manufacturers require YOU to purchase seasonal Preventive Maintenance to keep the warranty in force.
All extended parts warranties offered by equipment manufacturers only cover parts in the equipment they sold to you. They do not cover condensate pumps, secondary drain pans, refrigerant, refrigerant lines, etc. You must pay the material cost and the labor cost to repair those vital parts of your system.
Most extended labor warranties offered by equipment manufacturers require you to pay for diagnostics, labor to obtain parts, after hours calls
System Installation Services
Two Smart System
What if your heating and air conditioning system could choose the utility where you get the best rate? With our exclusive Two Smart system you can. What does Two Smart mean?
More Choice – With Two Smart you can outsmart your utility company by choosing the most energy-efficient and cost effective method to heat and cool your home. Two Smart combines the value and efficiency of both an electric heat pump and a gas furnace to keep you warm in colder weather and cool in warmer weather, while saving you money on your overall energy bill.
Optimized Energy Efficiency – When it's really cold outside, 32 degrees or colder, nothing keeps you warm and comfortable the way a high efficiency furnace can. However, when the temperature is still a little cold, above 32 and below 60 degrees, Two Smart enables you to think smarter about the best way to heat your home.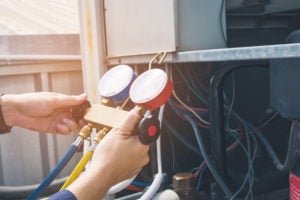 It's Automatic! – Combined with your gas furnace, heat pumps give you the option of heating your home with either natural gas or electricity, whichever is cheaper. Central Carolina Air Conditioning will set your Two Smart system up so it automatically switches from electricity to gas when the temperature outside reaches a certain level. This gives you the most comfort and highest efficiency.
Two Smart system from Central Carolina Air Conditioning It's Environmentally Friendly – Two Smart protects the environment by consuming less primary energy than conventional heating systems, thereby reducing gas emissions, such as carbon Dioxide (CO2), Sulphur Dioxide (SO2), and nitrogen oxides (NOx) that can harm the environment.
In addition, all our Two Smart systems use the new environmentally friendly 410-A refrigerant. Heating and Cooling Systems – Central Carolina Air Conditioning can install all types of equipment including:
Heat Pumps
Air Conditioners
Gas Furnaces
Package Systems
Boilers
Geo Thermal Heat Pumps
Mini Split Systems