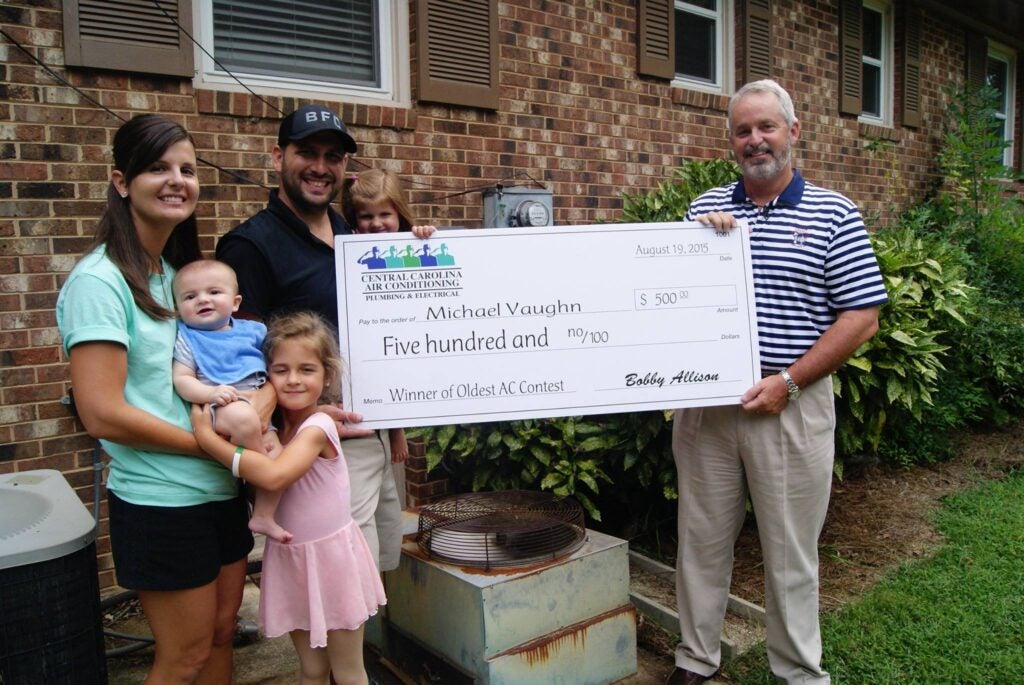 It's official friends! We have a winner! Central Carolina Air Conditioning, Plumbing & Electrical would like to congratulate Michael & Gillian Vaughn of Burlington as the winners of the Oldest AC Contest! Michael and Gillian's 1970's home still has a York air conditioning unit still running which makes it 45 years old!
Purchased in 2008 as a foreclosure, Michael & Gillian have remodeled much of the home as it had been neglected for quite some time. This was the second home they have purchased and remodeled top to bottom. They had to live in an apartment while renovations where under way because the work was so extensive. However, the one thing they haven't replaced was their 45 year old air conditioning unit.
"We decided to keep it while remodeling the home and have been surprised how well it still works. We maintain it regularly and know that we'll never have another one last this long!" Michael Vaughn, homeowner.
In addition to the $500 check, the Vaughns have also received a $500 credit towards a new system when they are ready.
Central Carolina Air Conditioning Owner Bobby Allison presented the check and stated "we were shocked to find a residential unit this old in the Piedmont. We can't believe it's still running and haven't ever seen a unit this age still running!"
Central Carolina Air Conditioning would like to thank everyone that entered the contest and remember that every qualified entry receives $50 off a maintenance. Give us a call at  (336) 299-3010 to speak with our customer service agents to schedule your service today.