As the leaves change color and the temperature starts to drop, many homeowners prepare their homes for the colder months ahead. One essential aspect of home maintenance that should not be overlooked is the HVAC (Heating, Ventilation, and Air Conditioning) system. If your system is over 12 years old or if you are having issues, you may be considering HVAC replacement. While it might seem counterintuitive to replace your HVAC system in the fall, there are several reasons why this season is an ideal time for an upgrade. In this article, we'll explore five key reasons why you should consider replacing your HVAC system in the fall.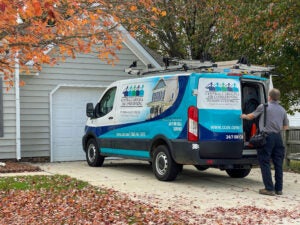 Off-Peak Season for HVAC Services
It's all about supply and demand. Fall is considered the "shoulder season" for HVAC contractors. The demand for HVAC services is typically lower during this time because HVAC systems aren't running as much as they would during the middle of summer or winter. This is great for the homeowner who is looking to replace their HVAC system or even schedule preventative maintenance services. You can often secure appointments more easily and may even benefit from discounts or promotions offered by HVAC companies as they look to offset the reduced demand. View Central Carolina's current specials.
Increased Efficiency for Winter
Upgrading your HVAC system in the fall ensures your home is ready for the colder months ahead. Did you know that approximately 40% of your annual energy bill comes from heating and cooling your home?(Read more at energystar.gov.) New HVAC systems are designed to be more energy-efficient, which can lead to significant cost savings on your heating bills. Additionally, a new system will be more reliable, reducing the risk of breakdowns in the middle of winter when you need it the most!
Improved Indoor Air Quality
Fall is the perfect time to address indoor air quality issues. Replacing your HVAC system allows you to incorporate advanced air filtration and purification technologies. This can help remove allergens, pollutants, and contaminants from your home's air, providing a healthier and more comfortable living environment for your family. Learn more about Central Carolina's Indoor Air Quality products and services.
Cost Savings On Maintenance
An aging HVAC system often requires frequent repairs and maintenance. By upgrading to a new system in the fall, you can avoid these ongoing increasing expenses. New systems also come with warranties and require less maintenance, saving you both time and money in the long run. To really plan for the future you can purchase equipment with a plan that includes maintenance services as part of your purchase, ensuring that the regular maintenance services and even repairs are covered at no charge. Learn more about Central Carolina's Comfort Plus Warranty here.
Eco-Friendly Options
If you're concerned about the environmental impact of your HVAC system, replacing it in the fall provides an opportunity to choose a more eco-friendly option, especially if you have a older system. New HVAC systems are designed to be more energy-efficient, which reduces your carbon footprint. Additionally, some models use eco-friendly refrigerants that are better for the environment!
Taking The Next Step
In conclusion, replacing your HVAC system in the fall is a smart decision that can lead to improved comfort, cost savings, and a reduced environmental impact. Take advantage of the off-peak season for HVAC services, and ensure your home is ready for the winter ahead. Request a free consultation now from Central Carolina by filling out the form below. We offer same day appointments to assess your needs and explore the latest energy-efficient and eco-friendly options available. Take the first step today and ensure you will enjoy a cozy and efficient home throughout the fall and winter seasons.
HVAC Replacement
"*" indicates required fields