The holiday that marks American Patriotism is around the corner, and often a time of gathering and celebration. If you're hosting a celebration this year, don't get overwhelmed just yet! We're here to share some helpful tips that will make hosting an enjoyable experience!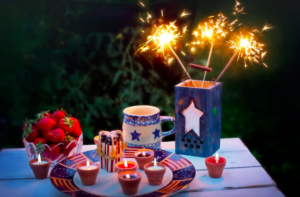 Prepare in advance. When it comes to the 4th of July, or any holiday, food is the primary staple that brings people together. Many delicious food options can be prepared days in advance. Consider frozen treats – perfect for summertime – or sauces that can be created in advance for BBQ and chicken.
Focus on drinks. In the heat of summer, one thing that everyone will be looking for is a good drink to keep them cool. Enhance any flavored beverage by adding strawberries, blueberries or raspberries to highlight the patriotic celebration.
Make the most of seasonal fruits. Not only are berries a great option for adding to drinks, but there are many seasonal fruits that can serve as decorative center displays or as fruit treys for people to snack on.
Keep it simple with prewrapped cutlery. Create an assortment of white, blue and red cutlery and a napkin stay consistent with the red, white and blue theme.
Add festive décor. Don't break the bank to make your home look festive. Add a few patriotic flags, some red, white and blue balloons paired with some colorful streamers and your home will look like you've spent lots of time and money prepping for the big celebration!
Now that your home is decorated and food is prepped, do a final check to so that you're ready to fully accommodate your guests. Make sure that your plumbing is properly working – including your toilets and sink faucets. Central Carolina Air Conditioning, Plumbing & Electrical can perform dye tests on all your toilets to ensure that there are no water leaks, which equate to money wasting. If your toilets are connected to a septic tank and there's a water leak, then you could be wasting even more money! We can also check all faucets in your home and all exposed hot and cold water lines to identify and repair any water leaks in your home.
Give us a call today Call to schedule your appointment today at 800-461-3010.